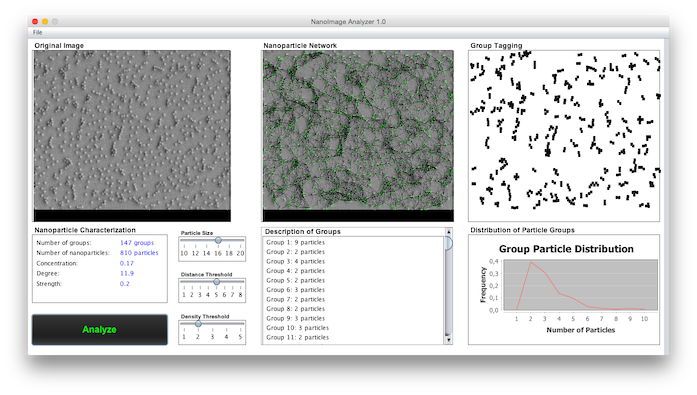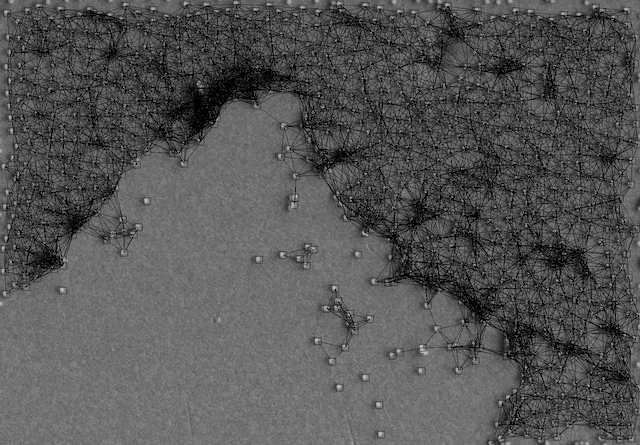 Complex networks have been widely used in science and technology because of their ability to represent several systems. One of these systems is found in Biochemistry, in which the synthesis of new nanoparticles is a hot topic. However, the interpretation of experimental results in the search of new nanoparticles poses several challenges. This is due to the characteristics of nanoparticle images and due to their multiple intricate properties; one property of recurrent interest is the agglomeration of particles. Addressing this issue, this research introduced an approach that uses complex networks to detect and describe nanoparticle agglomerates so to foster easier and more insightful analyses. In this approach, each detected particle in an image corresponds to a vertice and the distances between the particles define a criterion for creating edges. Edges are created if the distance is smaller than a radius of interest. Once this network is set, we calculate several discrete measures able to reveal the most outstanding agglomerates in a nanoparticle image. Experimental results using images of scanning tunneling microscopy (STM) of gold nanoparticles demonstrated the effectiveness of the proposed approach over several samples, as reflected by the separability between particles in three usual settings. The results also demonstrated efficacy for both convex and non-convex agglomerates.
Role

Principle investigator

Place

University of São Paulo, Federal University of Mato Grosso do Sul, Freie Universität Berlin

Years

2015 - 2017

Website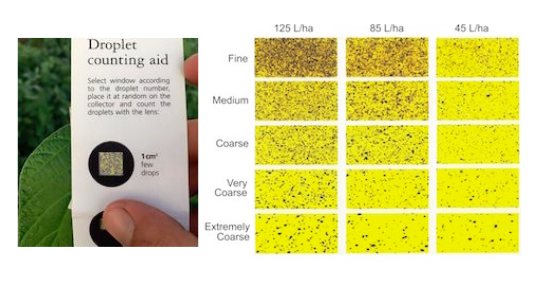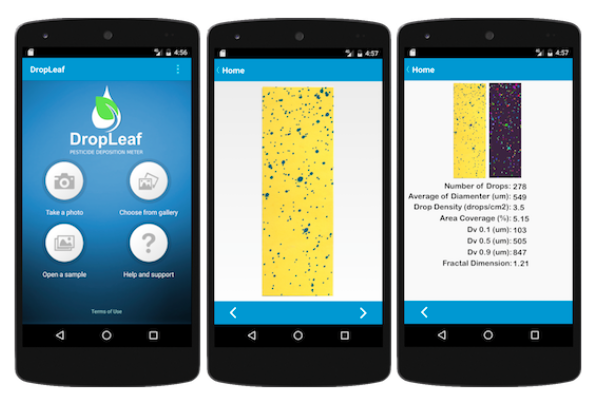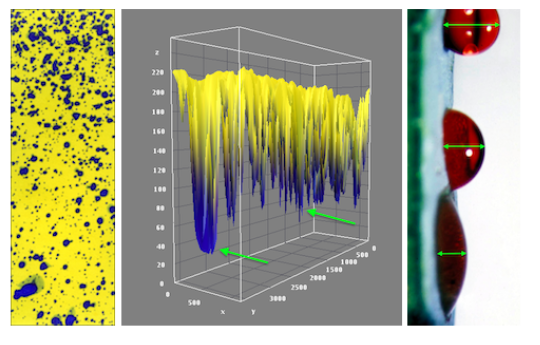 Pesticide application has been heavily used in the cultivation of major crops, contributing to the increase of crop production over the past decades. However, the overdosage of pesticides can contaminate the food, harm the human health, and pollute the environment. In contrast, under dosage might cause pest and/or weed resistance or behavioral avoidance. As a consequence, the incorrect application can lead to severe economic losses. Thus, quantifying the amount of sprayed pesticide is important to assisting experts and farmers to take better decisions related to the evaluation of pesticide management, by controlling weeds, insects, nematodes, and plant pathogens. There exist different ways to measure spray deposition. The most used method includes using water sensitive papers (WSP). WSP is a special paper card coated with a bromoethyl dye that stains to dark blue when liquids fall on it. Before spraying, experts place several of them in target areas. The major drawback of WSP is that the assessment is performed visually using handheld lenses, and comparing the card side-by-side with known spray patterns. In this context, we proposed the DropLeaf - Deposition Analysis to easily control and assess the spraying of pesticides.
Role

Principle investigator

Place

University of São Paulo, Federal University of Mato Grosso do Sul

Years

2015 - 2017

Website
Soybean is one of the ten greatest crops in the world, answering for billion-dollar businesses every year. This crop suffers from insect herbivory that costs millions from producers. Hence, constant monitoring of the crop foliar damage is necessary to guide the application of insecticides. However, current methods to measure foliar damage are expensive and dependent on laboratory facilities, in some cases, depending on complex devices. To cope with these shortcomings, we introduce an image processing methodology to measure the foliar damage in soybean leaves. We developed a non-destructive imaging methodolgy to estimate the foliar loss in leaves with or without border damage. We instantiate our methodology in a mobile application named BioLeaf, which is freely distributed for smartphone users. We experimented with real-world leaves collected from a soybean crop in Brazil. Our results demonstrated that BioLeaf achieves foliar damage quantification with precision comparable to that of human specialists. With these results, our proposal might assist soybean producers, reducing the time to measure foliar damage, reducing analytical costs, and defining a commodity application that is applicable not only to soy, but also to different crops such as cotton, bean, potato, coffee, and vegetables.
Role

Principle investigator

Place

Federal University of Mato Grosso do Sul, Dom Bosco Catholic University, University of São Paulo

Years

2013 - 2015

Website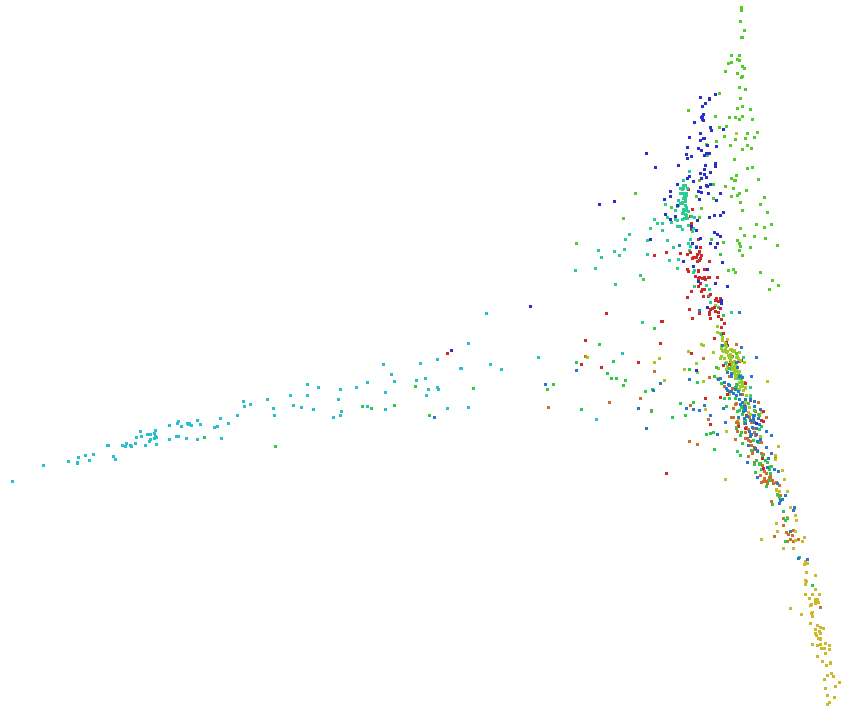 Projection Explorer for Images (PEx-Image) is a tool used to create and explore visual representations of image collections, helping the user to understand their contents. In such representation, each image is identified as a circle on a 2D-plane. If two circles are close, the content of the images they represent are similar, while if the circles are distant the images are uncorrelated according to the features analyzed. In this context, image description is a crucial step for many image­ related applications, including pattern recognition, content-­based image retrieval or image mining, determining the accuracy of the results achieved by them. There exist several image description methods, each of which with their own set of parameters, reflecting different properties of the image dataset under investigation. This tool also provides supports the comparison between different spaces using coordination techniques. In addition, in PEx­-Image the quality of a visual representation is assessed according to cluster measures and percentage correct image classification, to help the user's point of view.
Role

Participant

Place

University of São Paulo

Years

2008 - 2010

Website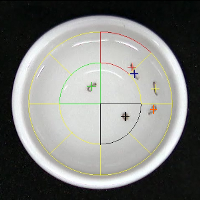 LARVIC - Computer Vision System for Automatic Larvae Mortality
In the last decades the use of environmental friendly and biodegradable natural insecticides of plant origin has received a great attention for disease vector control. This project aimed at developing a computational system to increase the reliability, efficiency and reproducibility at the moment of evaluation the larvicidal properties of local plants as intervention measure. In Brazil, Aedes aegyptti mosquito is the main vector for transmission of Dengue, Chikungunya and Zika virus. The assessment of insecticide resistance in such vector is a time consuming and laborious task because their effectiveness is measured by the human observation, i.e. larval mortality is scored within 24 hours of exposure period. Automatically video evaluation can provide to biological researches the capacity to test several compounds or different concentrations with more accurate results over a large number of samples.
Role

Participant

Place

Dom Bosco Catholic University

Years

2007 - 2008
TOPOLINO - Computer Vision System for Automatic Animal Behaviour Analysis
An important step in new drugs development is related to experiments with animals. Visual observation of rodents behavior changes is widely used to analyze the effects of new medical treatments. This project aimed at developing a low cost computer system to automate rodents behavior analysis, extracting from images captured by a CCD camera, relevant information related to well established experiments, such as open­ field, plus-­maze and water-maze.
Role

Participant

Place

Dom Bosco Catholic University

Years

2005 - 2007